— Attractions —
Experience San Francisco near Hotel Garrett
Located on Seventh Street in the heart of San Francisco, Hotel Garrett offers easy access to nearby attractions like Market Street, the Moscone Center, Union Square and more.
The Garrett Hotel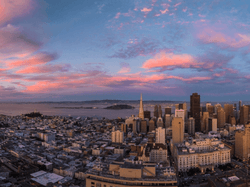 Discover the best of San Francisco from a fresh new perspective at Hotel Garrett.

San Francisco boasts a plethora of attractions that cater to diverse interests.
From the iconic world-famous Cable Cars, which offer a charming and scenic mode of transportation, to the vibrant Castro district known for its LGBTQ+ community, the city has something for everyone. Haight-Ashbury, renowned for its historical significance during the 1960s counterculture movement, still retains its bohemian charm with vintage shops and eclectic cafes. And no visit to San Francisco would be complete without exploring the sprawling urban oasis of Golden Gate Park, offering a myriad of activities such as boating, picnicking, and visiting the California Academy of Sciences. With a blend of historical landmarks, cultural hotspots, and stunning natural landscapes, San Francisco promises an unforgettable experience for every traveler.